Annual Security Report
The information contained in the Santa Barbara City College Safety & Security Report is provided to members of the campus community in compliance with the Jeanne Clery Disclosure of Campus Security Policy and Crime Statistics Act.
The SBCC Campus Safety department gathers statistical crime data from its own records and from information provided by the Office of the Dean of Student Affairs and other designated Campus Security Authorities. Campus Safety gathers the required crime statistics annually from each of the satellite campuses as well as from their local law enforcement agencies and publishes the reports locally. As required by law, Campus Safety reports this information to the Office of Postsecondary Education on an annual basis. Each year an e-mail notification is made to all enrolled students through Pipeline that provides the web site to access this report. Faculty and Staff will receive the same notification through e-mail.
Contents
Crime Prevention / Campus Safeguards
Campus Safety Plan and Emergency Procedure
Clery Act, (Crime Awareness and Campus Security Act of 1990)
Clery Act Policies and Procedure
Obtaining a copy of SBCC Annual Security Report
Campus safety officers are responsible for a full range of safety services to the Santa Barbara City College community, including all crime report investigations, medical emergencies, fire emergencies, traffic accidents, and enforcement of all College policies including those relating to alcohol use, drug use, and weapons possession. Campus Safety is also responsible for reporting all exterior lights that are in need of repair to Facilities & Operations.
Campus safety officers submit incident reports on all crimes on campus reported to the department.
All criminal activity, suspicious activity, and other emergencies on campus should be reported directly to the Office of Campus Safety by any member or guest of the Santa Barbara City College community. Please dial x2400 from a campus phone or (805)730-4200 from a cell phone for all emergency or service calls. Please call (805)965-0581 x2264 or (805) 730-4064 for all non-emergency business calls during normal business hours.
Santa Barbara City College encourages victims of crime to report all incidents to Campus Safety. All felony crimes are reported to the Santa Barbara Police Department or Santa Barbara County Sheriff Department depending on which campus the crime took place at. Santa Barbara City College safety officers will also assist victims who want to report a misdemeanor offense to the Police Department/Sheriff Department. To report a crime, or any other campus emergency, an individual may contact campus safety personnel by calling extension 2400 or (805) 730-4200.
WeTip is an anonymous crime reporting program that may be used to report any and all types of crime. WeTip's hotline has received thousands of reports on serious crimes such as arson, drug sales, graffiti and vandalism, burglaries, student molestation, workplace violence, gang activity and bullying as well as various nuisance crimes during its 37 years of operation. The WeTip hotline is available in English and Spanish 24 hours a day, 7 days a week, 365 days a year. All callers to Wetip remain 100% anonymous; a true distinction from other similar "confidential" hotlines. Wetip's reporting hotline is specifically configured to remove all electronic tagging information. WeTip never traces a phone call or internet report. To make a report to Wetip call: 1-800-78-CRIME, or log onto http://wetip.com/
LOCAL LAW ENFORCEMENT AGENCIES
Santa Barbara County Sheriff's Department
Santa Barbara Police Department
http://www.santabarbaraca.gov/Gov/Departments/Police/
Santa Barbara Harbor Patrol
http://www.santabarbaraca.gov/gov/depts/waterfront/patrol/default.asp
To file a report with Santa Barbara Police online go to http://www.santabarbaraca.gov/Gov/Departments/Police/ Reports such as hit and runs, non-injury accidents and restraining order violations can be filed. Another benefit is that one can then print a copy of the report for free instead of the $10 fee at the station. This is useful if needing a copy for the insurance company.
CRIME PREVENTION/CAMPUS SAFEGUARDS
Santa Barbara City College has taken numerous steps to prevent crime. These efforts include emergency phones located throughout the campus, escort service, high visibility of campus safety staff patrolling the campus, improved lighting on walkways and in parking lots; presentation of safety services via campus publications and orientation sessions for students and staff, building alarm systems and direct communication via handheld radios with Santa Barbara Police Department.
Escorts are available for students and staff at any time. Normally escorts are requested during evening hours when it is dark but one can request an escort if they feel unsafe for any reason. To obtain an escort contact campus safety either from an emergency phone, from an office or department on campus, X2400 or by dialing (805) 730-4200. Safety officers will respond within 5-10 minutes and will either arrive on foot, electric cart or vehicle.
Safety officers will respond with a battery pack to help start a dead battery. In the case that campus safety is not able to start the car then we will assist in contacting AAA or a local towing company. An officer will stay with the driver after school hours to make sure the vehicle is started or that driver and occupants are off campus safely. It is okay to leave the vehicle overnight in the case that is does not start or other type of emergency but it is the driver's responsibility to have the car removed early the next day. Vehicle may be towed off campus if deemed unsafe to stay on campus, if vehicle has been abandoned or if there are five or more unpaid citations. The college is not responsible for any damage that may occur to the vehicle while on campus.
At Home
Lock your doors and windows always - whether you are at home or away.

• Do not hide a door key outside.

Do not let anyone in your home that you do not know or trust.

Do not give out your phone number to "wrong number" callers.

Contact area law enforcement if you feel threatened.
Walking & Jogging
Plan and vary your route.

Always tell someone where you are going and when you will return.

Carry your cell phone or know where phones are along the route.

Carry identification.

Wear reflective material if you are going out at night.

Avoid unpopulated areas.

Trust your intuition about a person or an area.
On Campus
If you are uncomfortable walking to your car, call the Campus Safety Office at x2400 from any of the emergency phones ( yellow boxes and the tall black towers with a blue light on top) for assistance or dial (805) 730-4200 from a cell phone. See campus map for emergency phone locations

When ever possible, travel with friends or classmates.

Stay in well lighted areas. Avoid locations that are dark, remote, and not well traveled.

Walk close to the curb. Avoid doorways, bushes and alleys.

• Make eye contact with people when walking.

If you think you are being followed, walk quickly to areas where there are people. If a car appears to be following you, turn and walk on the other side of the street.

Call 965-0581 ext. 2269 for a Campus Safety Escort.
Call 965-0581 ext. 2400 for campus emergencies.
Isla Vista
Get to know your neighbors.

Form agreements to watch each other's homes.

Know the laws and obey them.

Don't go to parties alone.

If you plan to consume alcohol, eat first. Alternate glasses of water with glasses of alcohol.

If you drink, watch your open container. Do not allow anyone you don't know to fill your glass.

Don't leave a party with someone you don't know.

Remember, 90-foot cliffs are between I.V. and the ocean - stay away from the edge!
Downtown Santa Barbara
Know where you are going before you leave your house.

Don't go out alone at night.

Know what time coffee shops and restaurants close.

Obey the law.
Car Safety
Always lock your car doors after entering or leaving your car.

Always try to park in well lighted areas.

Have your car keys in your hand so you don't have to linger outside before entering your car. Keys can also serve as a possible weapon against an attacker.

Always check the back seat of your car before getting into your car.

If you are being followed, drive to the Campus Safety Office or an open business for help. Do not go home. Don't let a potential attacker or robber know where you live.

If your car breaks down, raise the hood and attach a white cloth to the car antenna. If someone stops to help, stay in your car with your car doors locked, and ask them to call the police and/or a tow truck.

You may not be able to avoid crime or a confrontation with a criminal no matter how careful you are. That is why it is important to know what to do if you do become a victim of a crime.
Get Help Immediately - map for location of Emergency Phones
Dial 9-1-1 and tell the 911 operator where you are and what happened.

Try to remember as many details about the assailant as possible, such as clothing, hair color, tattoos, scars or other identifiable marks. Write this information down, don't trust your memory.

Do not disturb or destroy any possible evidence.
Additional Resources: http://www.sbsheriff.org/ (Crime Prevention)
Identity theft is a serious crime and occurs when personal information is stolen and used without your knowledge to commit fraud or other crimes. Besides costing you time and money it can also destroy your credit.
Identity thieves use various methods to steal personal information such as:
Dumpster Diving. They rummage through trash looking for bills or other paper with your personal information on it.
Skimming. They steal credit/debit card numbers by using a special storage device when processing your credit card at a business you frequent.
Phishing. They pretend to be financial institutions or companies and send spam or pop-up messages to get you to reveal your personal information.
Changing Your Address. They divert your billing statements to another location by completing a "change of address" form
Regular Stealing. They steal wallets, purses, laptops and mail including bank & credit card statements; pre-approved credit offers and new checks or tax information.
Soliciting Information. On the telephone, through the mail, or over the internet without confirming that you are working with a trusted source.
You can deter identity theft by:
Shred financial documents and paperwork with personal information when discarding them.
Protect your Social Security number by keeping it in a safe place. Avoid carrying it in your wallet/purse.
Never click on links sent in unsolicited emails; instead, type in a web address you know. Use firewalls, anti-spyware & anti-virus software to protect your home computer and keep them up to date.
Avoid using an obvious password like your birthdate, mother's maiden name, or last four digits of your social security number. Regularly change your passwords.
Keep your personal information in a secure place at home, especially if you have roommates, employ outside help, or having work done in your house.
Additional Resources:
http://www.ftc.gov/bcp/edu/microsites/idtheft/
SBCC Safety & Emergency Office is located on Loma Alta directly under the footbridge that spans the East and West Campus. Office hours are Monday through Friday 8:30 AM to 4:30 PM. Office number is (805) 730-4064. Campus Safety Officers are available Monday through Friday from 5:45 AM to 1:30 AM, Saturday and Sunday from 6:30 AM to 11:30 PM. Campus Safety can be contacted by calling the Emergency Line, (805) 730-4200.
Special safeguards include hiring local law enforcement for special events such as Commencement, for special guest speakers as well as during certain College Board meetings where there is a larger than normal audience.
As of February 2019, a security re-org was conducted to expand the department with the approval for a Lock Specialist and Emergency Facilitator. The Lock Specialist position was filled as of August 2019 and that position helps maintain electronic and non-electronic locks, door closures and other duties to support a more secure infrastructure. As of October 2021, the Emergency Facilitator has not been hired. That position is a 50 percent Security 1 and 50 percent Emergency Facilitator designed to help handle security/emergency calls and help maintain and implement emergency procedures throughout all SBCC Campuses. Over the next 24 months, Safety Officers will complete additional training to help meet the needs and expectations of the campus such as mental health training and medical training.
The college's Emergency Operations Plan focuses mainly on taking timely action during an emergency. Primary focus is on an armed intruder/active shooter incident as well as an earthquake.
During an armed intruder/active shooter incident, the college will enact its emergency protocol by calling 911, place the college in lockdown by locking all electronic locks and initiate the college's emergency notification system. The emergency notification system includes an emergency text to all students and employees who have signed up for AlertU as well as send a notification to all campus computers and classroom speakers.
The college has provided a number of Active Shooter presentations that, focuses on Run, Hide or Fight training. No one method should be relied on solely but instead choose the action that best fits the incident at hand.
During an earthquake, the college recognizes that local emergency responders may not be able to respond to the college campus due to its vast need citywide. Therefore, the college will depend on the many resources from college professionals and emergency equipment to respond to the campus needs.
EMERGENCY MESSAGING NOTIFICATION SYSTEM
To sign up, text "Join SBCC" to 58339
Text "Stop SBCC" to 58339 to stop receiving messages.
To enhance the safety of students and visitors to Santa Barbara City College, the college has selected the AlertU platform to implement an emergency messaging system (EMS) to provide students and members of the community cell phone based text messaging in the case of an emergency.
The Santa Barbara City College - AlertU EMS is a web-based system intended for emergency text messaging only, using short message service (SMS) technology.
Use of the Santa Barbara City College - AlertU system is open to all students and individuals that attend classes or activities at any of the college's locations. The Santa Barbara City College - AlertU system is completely voluntary and the user is required to Opt-in to enable their personal cell phone to send and receive messages in the case of an emergency. Santa Barbara City College - AlertU Subscribers can Opt-out at any time to discontinue the emergency messaging service.
Test messages will be sent to each user four times per year to insure the integrity of the system and each user will be charged standard text messaging rates by their cell phone service provider.
GUIDELINES FOR VIOLENT OR THREATENING SITUATIONS ON SBCC CAMPUSES
(Please note that these are only guidelines. Each situation is different and may call for a different course of action.)
PREVENTING A VIOLENT INCIDENT
All faculty and staff should be vigilant regarding the risk of violence on campus. Every District employee is urged to take notice of the following:
Unusually aggressive, odd, or threatening behavior of student(s) or co-worker(s)

Threats of violence or retribution, whether said seriously or jokingly

Co-worker(s) or student(s) who are distraught or suicidal

Student reports of threatening behavior exhibited by another student

Overheard comments or rumors of some kind of planned or intended violence

Papers or writings that indicate potential engagement in violence

Presence of groups that have a history or suggestive behavior of violence

Fights or other acts of non-lethal violence

Presence of guns, other weapons, or suspicious objects
If any of the above is noticed, do not confront the threatening individual(s). Notify Campus Safety of your suspicions or observations.
WHAT TO DO IN THE EVENT OF A VIOLENT OR THREATENING SITUATION
1. FIRST, GET OUT OF HARM'S WAY. If possible, help others to avoid the threatening situation as well. Use common sense. Do not take foolish risks.
2. CALL FOR HELP – CALL 911 FIRST then Campus Safety
FROM A REGULAR CAMPUS TELEPHONE, DIAL 9 AND THEN 911. The call will go directly to the Santa Barbara Police Department (SBPD) Communications Center (Mesa or Schott) or the County Sherriff's Office (Wake or Cosmetology). They will know that the call is coming from SBCC but not the exact location on campus. GIVE THEM DETAILS. These would include details on suspects, weapons, injuries, and exact location. Stay on the phone until you are told it is okay to hang up.
FROM A CELL PHONE DIAL 911. NOTE: All 911 calls from cellular telephones go to the CHP Communications Center in Ventura. Tell the operator that you have an emergency and need to speak with SBPD or the County Sherriff's Office. You will be transferred to the appropriate communications center. Unless asked, do not give details to the CHP as you will have to repeat these for the SBPD operator.
3. AS SOON AS YOU ARE OFF THE LINE WITH SBPD CALL CAMPUS SAFETY
FROM A CAMPUS TELEPHONE CALL EXT. 2400. FROM A CELL PHONE CALL 730-4200.
Two or more safety officers are on duty most of the time. They will respond to the location of the problem to assist. On the Mesa campus they will also meet any emergency vehicles at the campus entrance to escort them to the exact location of the incident.
It is important to remember that SBCC safety officers are not armed. Safety officers are instructed to respond, evaluate the situation, and assist in getting police and other help to the scene as quickly as possible. To the extent possible they will assist with evacuation, if necessary, and render aid and comfort to anyone in need.
IF A SHOOTING OCCURS
1. IF YOU HEAR GUNFIRE, DIRECT STUDENTS, FELLOW FACULTY AND STAFF TO TAKE COVER. The best chance to avoid injury is to remove yourselves from sight. This can be done in several ways:
If in a classroom, keep students in the room and have them immediately fall to the floor, face down, and as flat as possible. If there is a safe place or cover within 15-20 feet, have them duck and run to it.

If confronted in an office, immediately fall to the floor. Move or crawl away from gunfire, trying to utilize any obstructions between you and the gunfire. (Remember that many objects of cover may conceal you from sight, but may not be bulletproof.)

Close, and if possible lock and/or barricade doorways; turn off lights.

If the room has shades or curtains, close them. Hide behind any available cover.

If walking down a hallway, look for an open room in which to hide.

If outdoors, get behind a tree, wall or fence, lie down, and wait for rescue.

If caught in an open parking lot, hide behind the front wheel/engine area.

When you reach a place of relative safety, stay down and do not move. Do not peek or raise your head in an effort to see what may be happening.

Wait and listen for directions from the police.
2. CALL 911
• Identify the College and the exact location. Remain calm and answer the police operator's questions. Operators are trained to obtain the necessary and required information for a proper emergency response. • Call Campus Safety. • Limit calls to emergency calls only.
EMERGENCY NOTIFICATION PROCEDURES
The District is prepared, and continues to prepare, to provide information to faculty, staff and students in the most expedient manner necessary to protect lives and property. Such information includes emergency notification to warn of an event and recommend a course of action, and long-term notification regarding conditions such as closures or access restrictions.
WARNING AND INFORMATION METHODS CURRENTLY AVAILABLE
Face to Face - Direct contact by SBCC Campus Safety staff, police, fire, and EMS

Runners - Group contact by individuals moving from area to area

Phone – Mass messages sent to all College phones

Email – Mass messages sent through College emailing systems

Text Messaging – Software allowing mass text messages to be sent to students, faculty and staff

Web – Postings on College website and social websites (e.g., Facebook)

Media - Announcements via local radio and television stations

Flyers - Posted announcements to provide updates
GUIDELINES FOLLOWING A VIOLENT OR THREATENING SITUATION
If a violent incident occurs on campus, certain reporting, investigating and documenting procedures must be followed. In addition, faculty, staff and students should be aware of possible disciplinary processes that may be involved.
REPORTING AND INVESTIGATING
After any threat of immediate danger has passed, an employee who has become aware of a violent incident or threat has a duty to report the incident to his or her supervisor. The administrator responsible for the area in which the incident occurred will determine the person to investigate. In many instances this will be the supervisor of the person reporting the incident. The administrator may ask for assistance from the campus safety director or other administrators.
DUTY TO DOCUMENT
It is very important that the incident be documented in detail, as there could be administrative, civil or criminal proceedings that follow. Documentation should include names, addresses, telephone numbers, places of employment, etc., for everyone involved. Days, weeks or months later, the police, an insurance carrier or a college representative may need to contact these people.
The report should contain facts only. It should not include conclusions, opinions or speculation. At some later date the writer could be examined in court as to why he or she included the conclusion, opinion or speculation.
ADMINISTRATIVE REVIEW PROCESS
Authorized staff may suspend a student or any other person who interferes with college activities. However, before utilizing any legal remedies available, consultation must occur among appropriate administrators. Except for instances in which police presence is essential, the responsible administrator will be consulted prior to calling the police. If ever in doubt, call the following:
Student & Non-employee problems:
Dean, Educational Programs Ext. 2278
Director of Campus Safety Ext. 2464
College employee problems:
Vice President of Human Resources Ext. 4733 or 2434
Director of Campus Safety Ext. 2464
STUDENT DISCIPLINE PROCEDURES
Independent of any charges filed through civil or criminal authorities, the District may take disciplinary measures against a student. Disciplinary procedures will be followed as referenced by College Policy 3231.3 (Student Discipline Procedures). The Dean of Educational Programs, Student Services Division, is responsible for such proceedings.
The Dean will require a copy of all reports on the incident. Reports should include the names, addresses and telephone numbers of witnesses or others who may have information about the incident.
EMPLOYEE-INVOLVED INCIDENT
Any incident in which a college employee is accused of threatening or violent behavior is to be reported to one's supervisor. The supervisor is to ensure that the information is passed on to the Vice President of Human Resources & Legal Affairs. The Vice President of Human Resources & Legal Affairs will determine who will conduct the investigation.
ACCESS TO CAMPUS
A student who is suspended or dismissed from the college for disciplinary reasons is in violation of California Penal Code section 626.2 if he or she comes on campus during the time of the suspension or dismissal.
The law further provides that District representatives may invoke California Penal Code section 626.4 to direct any person off campus, for no longer than 14 days, if there is reasonable cause to believe that such person is willfully disrupting the orderly operation of the campus.
A person who violates either of these sections is subject to arrest and could be fined up to $500 and/or receive six months in jail.
RESTRAINING ORDERS
Students, college employees and others who come onto campus may have obtained a restraining order as the result of an off-campus occurrence. All legal restraining orders do apply on campus.
Whenever a violation of a restraining order is reported on campus, the Campus Safety Unit will document the incident and recommend that the person reporting the incident notify the police. The Campus Safety Unit does not have the authority to enforce restraining orders, but will remain with the person reporting the restraining order violation until the police have arrived.
When the violation of any restraining order is committed by a student, a copy of the report will be provided to the Dean of Educational Programs, Student Services Division.
When the violation of any restraining order is committed by an employee, a copy of the report will provided to the Vice President of Human Resources & Legal Affairs.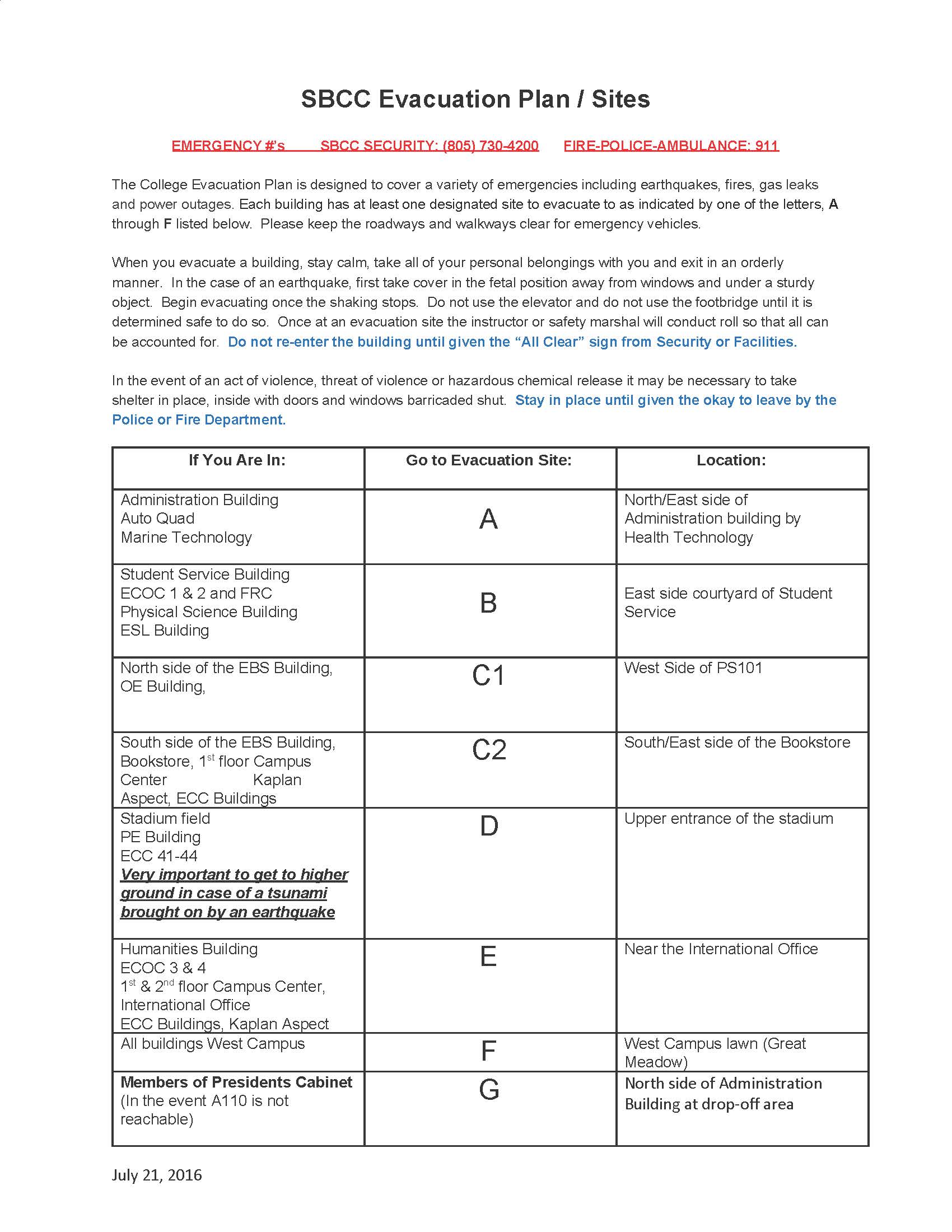 Santa Barbara SWAT team visits City College
RUN.HIDE.FIGHT. Surviving an Active Shooter Event
EMERGENCY SURVIVAL GUIDE POSTER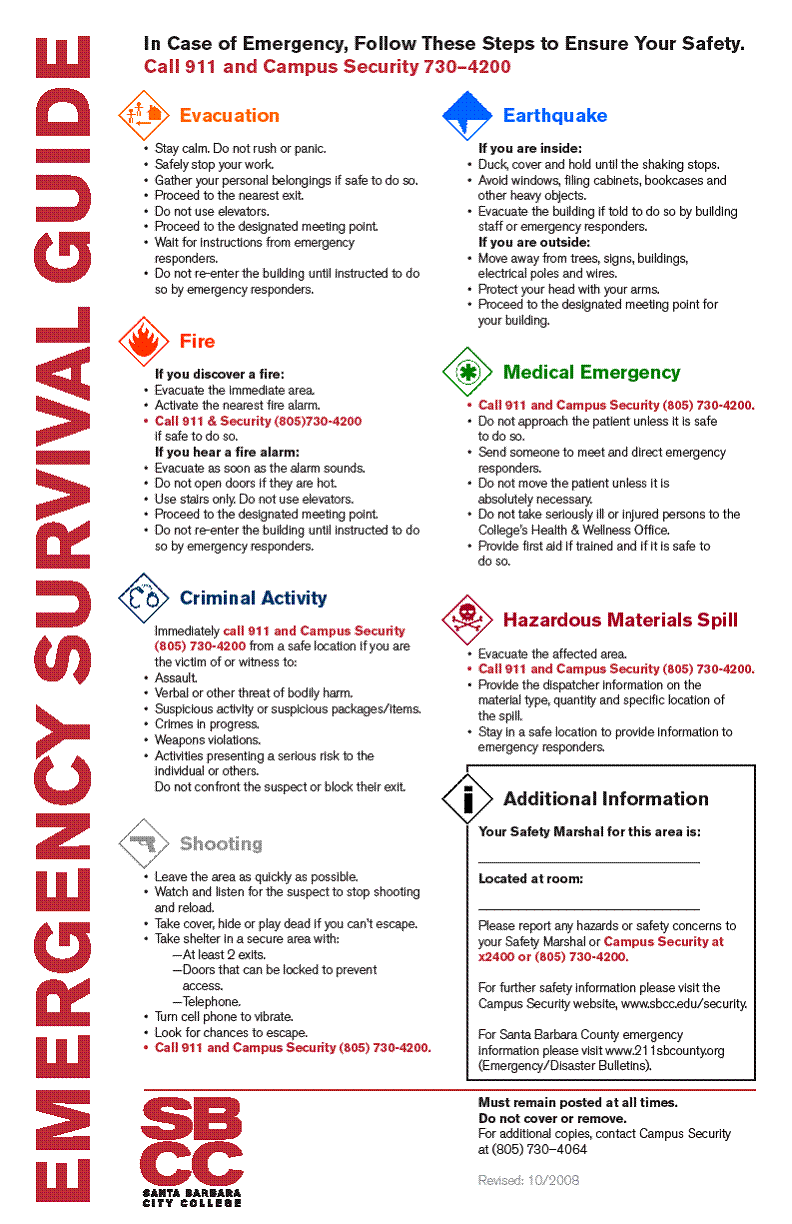 There are two types of emergency phones. A yellow box and a tall black pole with a blue light on top. One has the option of contacting campus safety emergency or 911. Below is a list of the emergency phone locations.
Emergency Phone Locations
ID Location
Location
Description
Main Campus
PP
Pershing Park
Next to parking lot bathrooms
MS
Montecito St
Bottom of stairway at dirt path
SO
East Campus
Next to Safety Office (North/East of Campus
1-A
East Campus
Lot 1-A (Near Student Services Building)
EE
East Campus
Passenger drop-off (East Entrance)
CC
East Campus
Campus Center lobby doors (Outside 2nd floor)
H
East Campus
Near ECOC 3-4 and H (Smoking area)
1-B
East Campus
Top of stadium gates (Lot 1-B)
LPS
East Campus
La Playa Stadium (Lower bathrooms eastside)
SP
East Campus
Sports Pavilion 1st floor (Inside)
WB
West Campus
West end of Bridge
L3
West Campus
Lot 3
DM
West Campus
Drama Music Building (Next to ticket office)
5-1
West Campus
Lot 5-1 (South end)
5-2
West Campus

Lot 5-2 (Pathway parallel to parking structure)
SBCC School of Extended Learning
S1
Schott Campus
310 W. Padre St.
S2
Schott Campus
310 W. Padre St.
W1
Wake Campus
300 N. Turnpike Rd
W2
Wake Campus
300 N. Turnpike Rd
W3
Wake Campus
300 N. Turnpike Rd
W4
Wake Campus
300 N. Turnpike Rd
Main Campus, 721 Cliff Drive
Schott Campus, 310 West Padre St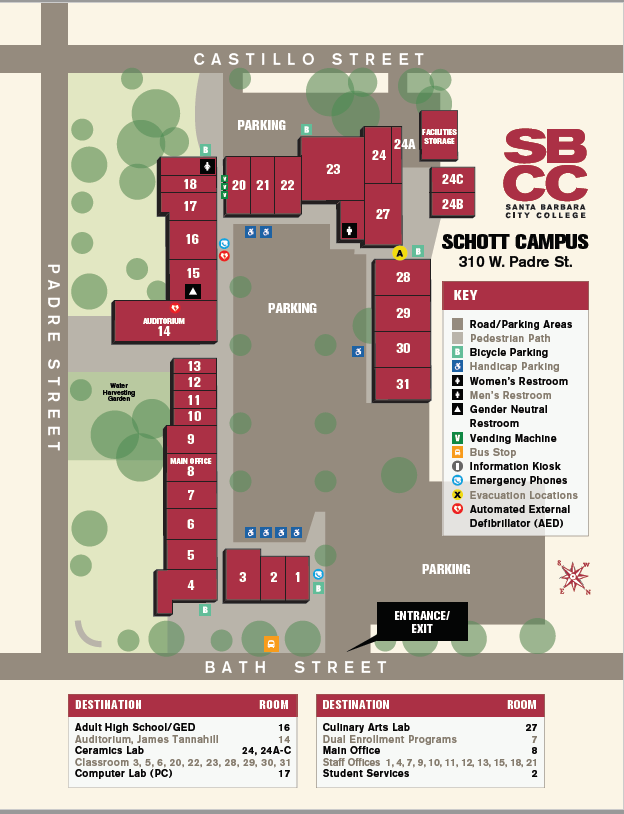 Wake Campus, 300 North Turnpike St.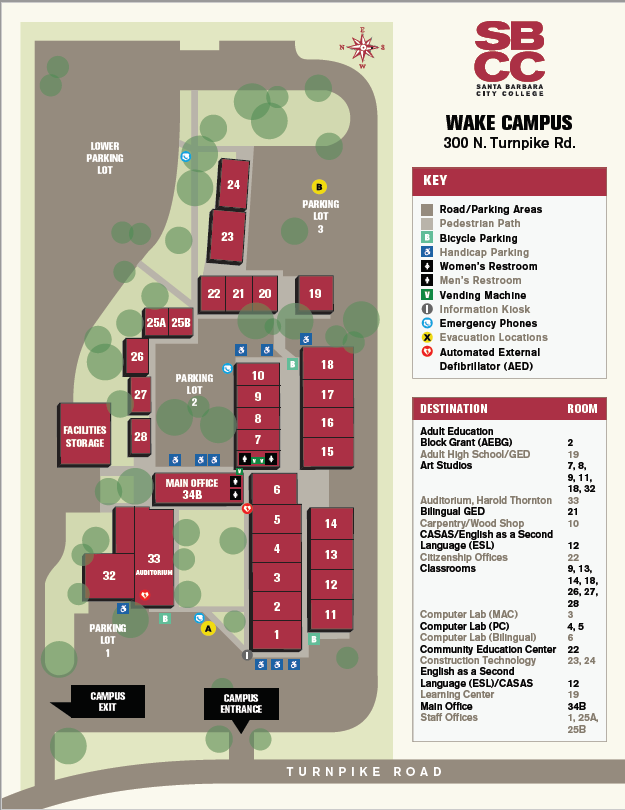 BOMB THREAT SAFETY INSTRUCTIONS
** Take all bomb threats seriously**
Call 9-911 immediately
Notify your Supervisor
Notify other building occupants
Campus Safety Officers will be dispatched to your location. Follow their instructions precisely. You may be evacuated from your work area, your floor, or from the building.

If there is a building evacuation, take your belongings and go directly to the evacuation site.

Be patient and wait for further instructions.
* Know where your evacuation site is before an emergency occurs.
If you receive a telephoned bomb threat -- Try to stay calm. Listen carefully to get information from the caller, such as the caller's gender, age, unique speech attributes and any background noises that might be clues to the caller's location.
Listen also for clues about where the device is, when it is set to go off, what it looks like, why it was placed. If the threat message was delivered -- describe the messenger or any other suspicious persons in the area to the 9-911 operator.
If you receive a suspicious package in the mail, or observe an abandoned box, backpack, etc. -- move away from the area and advise others nearby to do the same. Report situation details to the 9-911 operator.
CLERY ACT; (Crime Awareness and Campus Security Act of 1990):
Campus security and safety are important issues in postsecondary education today. Providing students nationwide with a safe environment in which to learn and keeping students, parents and employees well informed about campus security are goals that have been voiced by many groups. These goals were advanced by the Crime Awareness and Campus Security Act of 1990. The U.S. Department of Education (ED) is committed to ensuring that postsecondary institutions are in full compliance with this act, and that the enforcement of the act remains a priority. Compliance with this act, now known as the Jeanne Clery Disclosure of Campus Security Policy and Campus Crime Statistics Act, or Clery Act, provides students and families, as higher education consumers, with the information they need to make informed decisions. http://www.securityoncampus.org/schools/cleryact/handbook.pdf
Campus Safety maintains a daily crime log that lists all reported crimes. The log outlines the logistics of the crime (date, time, location), the nature of the crime, and how the crime was handled. The daily crime log for the most recent (60) period is available for the public to view at the campus safety office upon request during normal business hours. Upon request, portions of the log that are older than (60) days are available within (2) business days.
Murder
The willful (non-negligent) killing of a human being by another.
Manslaughter
The killing of another person through gross negligence.
Sex Offenses (Force)
Any sexual act against another person without the other person's consent. (Includes attempts)
a. Sexual intercourse with another person without the other person's consent.
b. Sodomy with another person without the other person's consent.
c. Oral copulation (vaginal, anal) with another person without the other person's consent.
d. Rape with a foreign object (vaginal, anal) of another person without the other person's consent.
e. Sexual battery is the touching of the intimate parts of another person for the purpose of sexual gratification, without the other person's consent.
Sex Offenses (No force)
Any unlawful, but consensual sex act with another person. (Includes attempts)
a. Incest--consensual sexual intercourse between persons who are related to one another within the degrees wherein marriage is prohibited.
b. Unlawful sexual intercourse, (statutory rape), consensual intercourse with a person who is under the age of consent.
Robbery
The taking of personal property in the possession of another, from his/her immediate presence, and against his/her will, accomplished by means of force or fear.
Aggravated Assault
An unlawful assault upon the person of another with a firearm, deadly weapon, object , instrument or by any means or use of force likely to produce great bodily harm. (Includes attempts, whether or not an injury occurred.)
Simple Assault
An unlawful assault upon the person of another where no weapon was used and which did not result in a serious or aggravated injury to the victim. (Includes attempts, whether or not an injury occurred.)
Burglary
The unlawful entry into a defined structure with the intent to commit a theft or any felony.
Vehicle Theft
The taking of a vehicle (as defined) without the consent of the owner with the intent to either permanently or temporarily deprive the owner of title or possession of the vehicle.
Arson
The willful and malicious setting of a fire to burn or who burns or causes to be burned or who aids, counsels, or procures the burning of any structure, forest land or property.
Narcotics/Drug Offenses
The unlawful possession, sale, use, transportation, cultivation, manufacturing or maintaining an unlawful place. (Does not include driving while under the influence, and/or being under the influence of narcotic/illegal drugs.)
Alcohol Offenses
The unlawful possession, sale, transportation, manufacturing, furnishing alcohol to a minor (under 21 years), and maintaining an unlawful drinking place. (Does not include public drunkenness or driving while under the influence.)
Weapon Offenses
With certain exceptions, the possession or control of any firearm, deadly weapon, illegal knife or explosive device while on this property. Our residential policy prohibits the possession or control of any fireworks, Pellet or BB guns, switch blade knives, nunchakus, billy clubs or any other deadly weapon.
Hate Crimes
A criminal act motivated by bias against any person or group of persons, or the property of any person or group of persons because of the ethnicity, race, national origin, religion, gender, sexual orientation, or disability of the person or group, or bias based upon the perception that the person or group has one or more of those characteristics.
The Office of Campus Safety, under the direction of the director or his or her designee, gathers and compiles Santa Barbara City College crime statistics. In addition to the crimes reported to Campus Safety, the director also solicits information from the Office of the Dean of Students and the Department of Physical Education and Athletics. Crime statistics in this report include off-campus venues and adjacent streets, which were compiled in collaboration with the Santa Barbara Police Department and Santa Barbara County Sheriff Department.
It should be noted that the Campus Security Act was amended in 1998. Any marked increase across years or in the revised statistics from previous years can be accounted for by the fact that the geographic boundaries for reporting were greatly expanded in 1998, and reporting of drug, alcohol, and weapons violations was also broadened to include not only arrests but also disciplinary referrals.
TOTAL CRIME STATISTICS 2018-2020
CLERY ACT POLICIES & PROCEDURES
Title IX and Gender Equity
For information regarding Title IX and Gender Equity please visit http://www.sbcc.edu/titleix/
Sexual Assault, Sexual Harassment, Domestic / Dating Violence and Stalking
Santa Barbara City College is committed to providing a place of work and study that is free of sexual and other forms of violence, sexual harassment and all forms of intimidation or exploitation. Relevant policies and the college's resources which offer prevention, education and response services addressing these behaviors are listed in the pages that follow.
Consent
Consent is based on choice. It is informed, freely given, mutually understood, and based on respect and reciprocity. Consent requires an affirmative act or statement by each participant. If coercion, intimidation, threats or physical force are used, there is no consent. If a person is mentally or physically incapacitated or impaired so that they cannot understand the fact, nature or extent of the sexual situation, there is no consent. This includes incapacitation due to alcohol or drug consumption if a person is asleep or unconscious. Whether one has taken advantage of a position of influence over another may be a factor in determining consent. Yes means Yes. A new California law has just been enacted regarding consensual sex.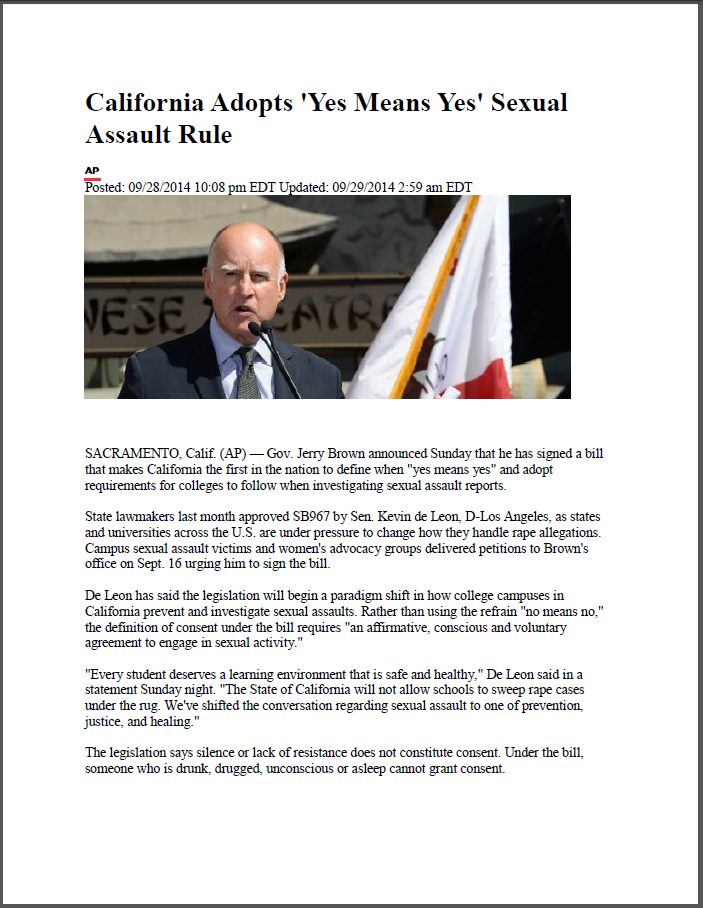 Bystander Intervention
Bystanders play a critical role in the prevention of sexual and relationship violence. They are often the largest group of people involved outnumbering both the perpetrators and the victims. Bystanders can have a range of involvement in assaults. A person or persons may be aware that a specific assault is happening or will happen, they may see an assault or potential assault in progress, or they may have knowledge that an assault has already occurred. Regardless of how close to the incident they are, bystanders have the power stop assaults and to get help for people who have been victimized. For more information and bystander intervention strategies Please visit http://www.health.ny.gov/publications/2040.pdf
SEXUAL ASSAULT
The actual, attempted, or threatened commission of an unwanted sexual act that occurs without indication of consent by each individual, or that occurs under threat or coercion.
Sexual assault can occur either forcibly and/or against a person's will, or when a person is incapable of giving consent.
Under state and federal law, sexual assault includes but is not limited to:
Rape

Forcible fondling

Forcible sodomy

Forcible oral copulation

Sexual assault with an object

Sexual battery

Threat of sexual assault

sexualassault AdminGuide2.2.5
A Person is legally incapable of giving consent if:
Under 18 years of age
or
Intoxicated by drugs and/or alcohol
or Developmentally disabled
or
Temporarily or permanently mentally or physically unable to do so
What To Do If You Are Assaulted Or Raped:
Your immediate safety is the priority. Call 911 if you are in danger.
Contact a friend or someone for support.
Seek Medical attention immediately.
Do not bathe, douche, change your clothes or rinse your mouth – take a clean change of clothes with you to the hospital or police station.
Write down what happened.
Consider pressing charges.
Get professional help and support (see resources below).
If Someone You Know Is Assaulted Or Raped:
Be supportive and listen; do not judge them.
Assure the survivor that it was not his/her fault.
Remember that the survivor's feelings are the most important right now – not yours
Verbalize your support by saying things like " I am so sorry that this happened to you".
Encourage the survivor to determine their own choice of solution to the assault or rape and respect their decision. Don't vow revenge on the perpetrator as this can make matters worse for the survivor.
Encourage the survivor to seek medical assistance and counseling
Be patient and understanding. Don't ask for details or specifics. Don't neglect your own feelings about the occurrence such as anger, helplessness or frustration that are so strong that they are interfering with your ability to be supportive of the survivor. Seek professional help for yourself if necessary.
Santa Barbara Resources:
SURVIVOR'S CHOICES AFTER SEXUAL ASSAULT:
If you have been sexually assaulted: Prioritize your physical and emotional health. Get to a safe place. Call a friend or someone you trust to be with you. Call the Santa Barbara Standing Together to End Sexual Assault Center (SBSTESA) 24-hour hotline (564-3696). The SBSTESA center provides free, confidential support and counseling. They can offer valuable information and answers to your questions. On campus, call Campus Safety @ x 2400 or come to the Student Health Center in SS-170 between the hours of:
8 am-4 pm Monday
8 am-6 pm Tuesday
8 am-6 pm Wednesday
8 am-4 pm Thursday
8 am-1 pm Friday
Seek medical help. Taking care of your body may be the first step to recovering control of your life. A medical exam can ascertain whether infection, sexual transmitted infection, pregnancy, internal injuries or shock are warranting further treatment. If you choose to report the rape, you may receive medical care through SART (Sexual Assault Response Team). Community clinics, Planned Parenthood and private doctors also provide medical care. You are not required to report to law enforcement when you go to a clinic or doctor. However, if you talk with a doctor or nurse about the assault, they are obligated to report this information to law enforcement regardless of your age.
Reporting options:
Santa Barbara STESA Center has trained advocates to talk with you about your rights and options in relation to medical and legal concerns, (564-3696). The advocate's primary role is to support you. They will give you as much information as you need and will support your decisions. If you decide to get medical care and/or report to the police, she can be with you through the entire procedure.
If you choose to report, you can call law enforcement directly at 911 or ask an advocate to assist you in making the call. If you are considering making a report to law enforcement, do not douche, shower, bathe, change or destroy your clothes immediately following the assault. Although it is normal to want to clean up immediately after an assault, doing so removes vital evidence. Once the call is made, a police officer will meet with you and take a report. You have the right to have someone with you during the interview procedure. The medical exam should be done as soon as possible after the assault.
If you wish to report anonymously, you may do so. Some people want law enforcement to be aware of an assault and assailant but wish to remain anonymous. The Santa Barbara Rape Crisis Center will help you complete an anonymous victim report and will send copies to the appropriate agencies. Law enforcement will not make any arrests based on an anonymous report, however, the information may be helpful in investigating similar cases.
Survivors of sexual assault may:
1. File an anonymous report for the purpose of documentation only.
2. Contact SBCC campus safety: escort to your classes or car as needed or support with enforcing restraining orders while on campus.
3. Report to both the campus safety office and campus conduct system.
4. File a civil suit against the accused.
5. Seek to obtain a Temporary Restraining Order (TRO) - If you know your assailant and fear further contact, a TRO may provide you with added protection. TRO states that the assailant cannot call you, come near you, or in any other way harass you for the duration of the order. A TRO can be obtained through a private attorney or the Legal Aid Foundation (963-6754). Once the assailant has been given notice of the restraining order, he can be arrested for violating any of its terms.
6. Request academic assistance for missed classes or exams, or help with rearranging your coursework. A SBCC personal counselor or your advocate from the Rape Crisis Center can accompany you in meeting with your instructors or the Dean.
Student Sexual Assault Survivor's Bill of Rights
Federal law entitles sexual assault victims to the following rights. The accuser and the accused have the same opportunity to have others present throughout disciplinary proceedings. Both parties shall be informed of the outcome of any disciplinary proceeding. Victims shall be informed of their options to notify law enforcement. Victims shall be notified of counseling services available on and off campus. Victims shall be notified of options for changing academic.
Sexual Harassment Unwelcome sexual advances, requests for sexual favors, and other visual, verbal, or physical conduct of a sexual nature constitute sexual harassment when:
It is implicitly or explicitly suggested that submission to or rejection of the conduct will be a factor in academic or employment decisions or evaluations, or permissions to participate in a University activity,
OR
The conduct has the purpose or effect of unreasonably interfering with an individual's academic or work performance by creating an intimidating or hostile academic, work, or student living environment
(Could you be in an abusive relationship?)
Are you afraid of your partner?

Do you avoid certain topics of conversation out of fear it will anger your partner?

Does your partner humiliate or belittle you?

Does your partner have a bad and/or unpredictable temper?

Does your partner destroy your belongings?

Does your partner keep you from seeing friends or family?

Does your partner seem unusually possessive or jealous?

Does your partner force you to have sex?
If you answered "yes" to any of these questions — understand that you are not at fault! You deserve to be treated with dignity and respect — especially by your romantic partner. Emotional abuse is often a precursor to physical violence. Broadly defined as physical or sexual assault and/or other threatening and abusive behavior including stalking, harassing, or destroying personal property perpetrated against a former or current intimate partner, relative, or person living in the same household. A pattern of abusive or coercive behaviors used to maintain power and control over a former or current intimate partner. Abuse can be emotional, psychological, financial, sexual, or physical, and can include threats, isolation, and intimidation.
Resources
There are many resources for victims who are unsure what to do when dealing with domestic violence. One option is the criminal justice system. Do not be afraid to call the police if you have been abused. The goal of the police and legal system is to provide some measure of safety for victims of violence and to provide information about additional resources, such as temporary living accommodations if necessary. One immediate alternative is to obtain a Temporary Restraining Order. If you have been recently threatened, hurt, or abused, or are being stalked by your current or former intimate partner, call 9-1-1 or 9-911 from a campus phone. Tell the dispatcher that you are in danger and that you need help immediately. The police are required to write an incident report for all domestic violence calls, even if the batterer has already left the scene. Although it is best to make the report as soon as possible, you may call the police anytime, even days or months, after you have been abused. Alternatively, you can contact a domestic violence and dating violence hotline at any time.
Santa Barbara Resources:
SBCC Personal Counselors
(805) 965-0581 x2298
http://www.sbcc.edu/healthservices/
http://www.dvsolutions.org/
http://www.cdph.ca.gov/HealthInfo
https://www.countyofsb.org/da/vw_domestic.html
http://www.womenshelters.org/cit/ca-santa_barbara
http://www.countyofsb.org/da/msm_county/documents/DVSAPPBrochure108.pdf
California is defined by the California Penal Code (P.C. 649.9) as "any person who willfully, maliciously and repeatedly follows or harasses another person and who makes a credible threat with the intent to place that person in reasonable fear for his or her safety or the safety of their immediate family is guilty of the crime of stalking. "Stalking is a behavior or a series of behaviors that alarm, annoy, or torment a person. These actions or series of actions by the perpetrator make the victim feel fearful, anxious, stressed and targeted. In most cases, the majority of the stalkers know their victim in some capacity before the stalking begins. If you believe that someone is stalking you ask yourself if any of the following is taking place:
Someone observing and/or following you

Cyberstalking using GPS, Keystroke Capture Devices, etc

Someone gathering information about you and your personal life

Repeated non-threatening calls or emails

Threatening telephone calls, letters or e-mails

Appearing at a place of residence, school or work

Inappropriate approaches, confrontations or threats

Physical attack

• Vandalism
If you feel that you are a victim of stalking, you should;
Notify Campus Safety and if you are in immediate danger, call 911.

Be clear and assertive in demanding to be left alone.

Document each incident. Include dates, times, locations and a detailed description of what happened. Keep letters, notes and gifts or other objects sent to you. It may be important evidence.
In the event that a situation arises, either on or off campus, that in the judgment of the Director of Campus Safety, constitutes an ongoing or continuing threat, a campus wide "Timely Warning" will be issued. The warning may be issued using any or all of the following; flyer's posted at entrances to all buildings, AlertU emergency messaging system and campus wide email. Timely Warnings consist of a description of the incident, location that it occurred and description of the suspect/s. Once all the relative information is received these notices will typically be posted within 24 hours. Anyone with information regarding the Timely Warning should contact campus safety, (805) 730-4200 and or local police, 911.
Most campus buildings are open from 7:00 a.m. to 10:00 p.m., Monday through Friday. Faculty utilizing facilities at other hours are required to contact the Campus Safety Office. On the weekends, utilization of campus facilities is coordinated through the Community Services Department.
Many campus facilities are protected by alarms, and only authorized personnel will be admitted.
Campus Safety/Facilities Services share the responsibility of securing the campus during normal business hours. When classes are not in session, the Campus Safety Department assumes primary responsibility for securing the facilities.
Students are not permitted to use college facilities unless a City College representative is present.
Keys are provided to individual staff members on a need-to-enter basis as determined by the appropriate supervisor. Lost keys must be reported immediately to the supervisor and the Campus Safety Department.
Keys may never be loaned to other staff members or students. College personnel will confiscate any keys which have not been specifically issued to a particular individual. Duplication of District keys is a misdemeanor.
The Drug Free Schools and Communities Act Amendments of 1989 required colleges to implement a drug prevention program, which includes the annual dissemination of the college's policy on alcohol and drug use.
Santa Barbara City College is committed to the success of each student and, as a college, we realize that the use of alcohol and drugs can be a major impediment to success. There are both physical and psychological health risks associated with drug and alcohol use, including decreased immunity, exhaustion, decreased muscle coordination, depression, confusion and paranoia, among other conditions. In most cases, anyone who uses drugs and abuses alcohol can expect a decline in the quality of his/her life.
Through the Health Services and Wellness Program and the Student Athletic Assistance Program (SAAP), SBCC offers classes, educational programming, resources and counseling, as well as referrals to community service agency counseling and rehabilitation programs.
According to the Standards of Student Conduct, possession, use or distribution of illicit drugs and alcohol on college property or during campus-related activities are subject to disciplinary action. This can be up to, and including, expulsion from SBCC, as well as punishment under California State Law.
"Hate violence" as defined in the statute "means any act of physical intimidation or physical harassment, physical force or physical violence, or the threat of physical force or physical violence, that is directed against any person or group of persons because of the ethnicity, race, national origin, religion, sex, sexual orientation, disability, or political/religious beliefs of that person or group". Incidents of hate violence can be reported to the campus police , Counseling and Psychological Services, and the Student Affairs Office. The College does not condone hate violence and is charged with ensuring that the rights guaranteed by state law and the U.S. Constitution are protected for all people regardless of their ethnicity, race, national origin, religion, sex, sexual orientation, disability, or political/religious beliefs.
California state law prohibits the possession or control of any firearm, (including but not limited to any facsimile firearm), deadly weapon, explosive device, fireworks, nunchakus, mental knuckles, shuriken, billy club, sap, or any other deadly weapon or prohibited knife and/or knives while on the property of the Santa Barbara City College campus', except as required in the lawful course of business or as authorized by the Director of Campus Safety.
California law requires sex offenders who are employed, volunteer, are a resident of, or enrolled as a student at an institution of higher education, to register with the campus police. Since SBCC does not have a Police Department then sex offenders attending or working at SBCC must register with the local Police Department, S.B.P.D. 215 E. Figueroa St, Santa Barbara, CA 93101. If you would like information concerning registered sex offenders in California, check the Megan's law web site at http://www.meganslaw.ca.gov/. You can search the database by a sex offender's specific name, or geographically by entering the ZIP Code, or city/county to obtain information on registrants residing in a specific area.
Obtaining a Copy of the SBCC Annual Security Report
You may request a paper copy of the SBCC Annual Security Report through any of the following:
By mail: Santa Barbara City College, 721 Cliff Drive, Santa Barbara, CA 93109
By Phone: (805)730-4064
By e-mail: safety@sbcc.edu
On-line: Visit the Campus Safety web page at http://www.sbcc.edu/safety or refer to the U.S. Department of Education Office of Post Secondary Education Campuses Security web page at https://opeweb.ed.gov/